NSDC nabbs ritualist, raids hideout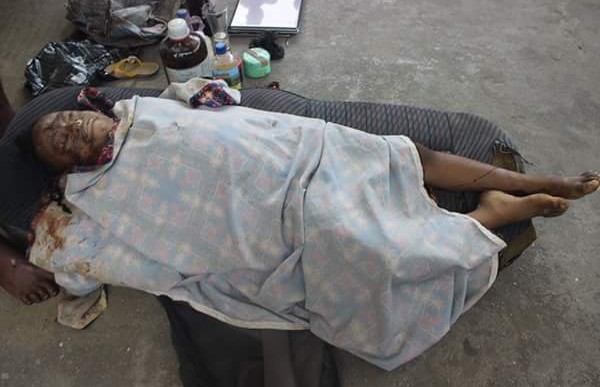 One Kazeem Abdulsalam has been nabbed by the Kwara State Command of the Nigeria Security and Civil Defence Corps (NSCDC) for money rituals, money laundering and obtaining under false pretense the sum of five point five million naira from an unsuspecting victim.
---
The suspect alongside his accomplice was arrested at a shrine located in Aleyo Community, Afon in Asa Local Government Area of Kwara State.
 The almost two plots of land  belonging to  Kazeem Abdulsalam, in Aleyo community in Asa local government in  Kwara state.  It was well structured to include operational rooms and statue of deities.
Leading the NSDC operatives to the shrine, the herbalist who spoke in Yoruba dialect claimed to be an herbalist. He said the shrine is often used to shoot movies and help people who come to them with problem.
'''I worked as an herbalist, I built the structure for movies shooting  and I also  solved people problems when they come for help, they came to me for assistance and I asked them to bring N208,000 for spiritual purpose''''
 The another suspect, who claimed he only collected N280,000 from the complainant for his service, said he is not a fraudster.
''I knew the herbalist man almost 5months ago, and i told me that he healed peoples' problem  and some body came to me to help him about  his problem and I brought him to the herbalist man for healing and he asked us to bring two hundred and eight thousand…..
The State Commandant, Adeyinka  Ayinla explained how the hideout was discovered.
Members of the community who also spoke in Yoruba dialect  said all he told them was that the place was used for shooting movies were however not surprised at his arrest.
''what he told us was that, he wants to acting film  and we normally see people around him with big cars so, when the information reached us that he was arrested, we are not surprised'' they added.