Fire engulfs 24-floor tower block in London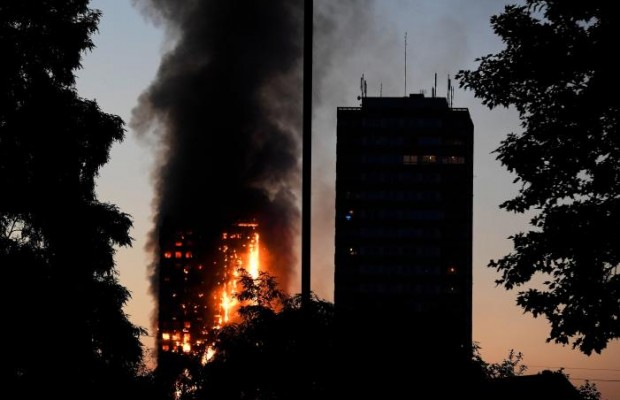 Fire engulfed a 24-storey block of flats in central London on Wednesday, killing some people, injuring at least 50 more and trapping some residents asleep inside the towering inferno.
---
 Flames licked up the sides of the block in the north Kensington area as 200 firefighters, backed up by 40 fire engines, fought the blaze for hours.
Plumes of black and gray smoke billowed high into the air over the British capital hours after the blaze broke out at the Grenfell Tower where several hundred people live.
Residents rushed to escape through smoke-filled corridors in the housing block after being woken up by the smell of burning. Some said no fire alarm sounded.
Witnesses said they saw trapped residents desperately shouting for help from windows on upper floors as flames enveloped the building.
"In my 29 years of being a fire fighter, I have never ever seen anything of this scale," London Fire Brigade Commissioner Dany Cotton told reporters
"I am very sad to confirm that there have been a number of fatalities, I cannot confirm the number at this time due to the size and complexity of this building."
London Fire Brigade said the fire engulfed all floors from the second to the top of the block which contained 130 apartments.