Five-star hotel collapses in Ilorin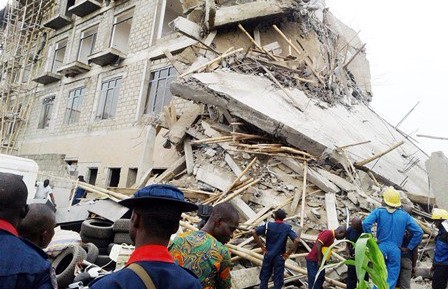 A four storey hotel building in Ilorin, the Kwara state capital has collapsed with three workers sustaining various degrees of injuries.
---
The building which is an extension of a hotel around Sulu gambari road in Ilorin, has been under construction for the past six months.
Some of the rubbles could were seen as a vehicle parked nearby was also badly damaged with several people looking worried over the incident.
According to a survivor who spoke in yoruba who is also a worker at the site, he stated that four of them were working at the back of the structure when they started noticing stones dropping from the building.
Others eye witnesses also shared their view and faulted the building engineer over collapse of the structure.
Confirming the incident, the state commandant of the Nigerian Security and Civil Defence Corps (NSCDC), Pedro Ideba blamed it on poor construction work and assured of the readiness of his men to provide security and evacuation of the wounded.
He confirmed that three workers wounded are receiving treatment in a nearby hospital and however called for proper monitoring by professional bodies to avert future occurrences