Pedro Dedicates Win To Vilanova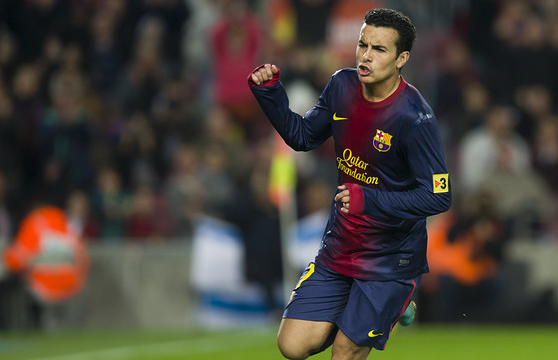 Barcelona's Pedro Rodriguez dedicated Sunday evening's 4-0 Primera Division win over Espanyol to returning coach Tito Vilanova, while saying he was also happy to finally be back on the scoresheet for his club.
The Spain international told Canal Plus after the game that Barca's players had wanted to win for their boss, who was back on the bench just over two weeks after undergoing a serious medical procedure to remove a tumour from his parotid gland.
"We wanted to dedicate a victory to Tito and we were able to do so," Pedro said. "These have been very difficult days for him and his family. The most important thing is that he is well. We are very happy to have him with us."
The winger had earlier scrambled home his first La Liga goal since August and then flicked home a superb second from a defence-splitting Sergio Busquets pass. He said he was happy with how things had gone against Barca's city rivals, if a bit disappointed an assistant referee's flag had disallowed two more legal-looking goals in the second half.
"I came close to scoring another goal but I am pleased that I got two," Pedro said. "I am especially happy that the team won."
Espanyol were never in contention once Xavi Hernandez had broken the deadlock early on, and Lionel Messi completed the scoring inside half an hour with a penalty after Cesc Fabregas had tumbled over a challenge from visiting keeper Kiko Casilla.
The result stretched Barca's lead over second placed Atletico Madrid to an already decisive-looking 11 points, while maintaining the 16-point advantage over Real Madrid in third.
"We played well," Pedro said. "We need to keep going with this mentality and take it step by step."