Flying Eagles Back On Track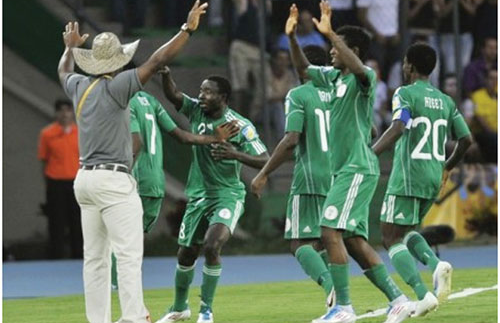 Nigeria's Flying Eagles on Wednesday night got their 2013 AYC campaign back on track with a hard-fought 1-0 win over Gabon.
Mali booked their ticket to the World Cup in Turkey in the earlier game of the day when they defeated DR Congo 2-1 to stay top of the standings in Group B with six points. Nigeria's slim win over Gabon means they have now shot to second place on the table with three points, while Gabon and DRC are bottom on a point each. Like it was in their opening game against Mali, the Flying Eagles created several begging chances, which if they had put away, would have finished off Gabon in the first half.
The match winner through skipper Abduljaleel Ajagun from the penalty spot after goal-bound Olanrewaju Kayode was upended by Gabon goalkeeper Rodolphe Ngouandzela.
"We thank God for this victory, but we were again missing chances. Our problem of scoring goals gave Gabon the strength to fight back," said coach John Obuh. "Also, we came up against a very different and better Gabon than the team we saw draw 0-0 with DR Congo on Sunday. They were better than we expected."
Flying Eagles skipper Abduljaleel Ajagun admitted they struggled to cope with the pressure to win this group game so as to stay alive in the U20 competition. "There was a lot of pressure on the team, but all the same we managed to win this game," said Ajagun. "This victory will boost our confidence going into our final group game against DR Congo."
On Wednesday night, Gabon took the game to the defending champions and after five minutes they forced Nigeria goalkeeper Jonah Usman to tip away a dangerous effort for a corner and from the corner Meye Me Ndong could have scored but he directed his free header wide. After Ajagun converted the penalty in the 19th minute, Moses Orkuma saw his shot come off the post in the 24th minute with the goalkeeper well beaten.
On the half hour Edafe Egbedi and Chidi Osuchukwu both threw away sitters in quick succession. The Gabon goalkeeper did well to keep away a goal-bound shot by Osuchukwu from inside the box in the 66th minute. The Junior Panthers goalkeeper was again called up to deny Kayode two minutes later just as Gabon also stepped up their attack in search of an equaliser. In the 72nd and 82nd minutes Kayode had two fine chances to put the game beyond Gabon, but somehow he failed to do so. In the dying moments of the game a mistake first by Shehu Abdullahi and then goalkeeper Usman could have presented Gabon a lifeline, but they did not hit the target.
Nigeria battle it out in the final group game against DRC from 5.30 in Oran while Mali also up against Gabon at the same time at Ain Temouchent.
Flying Eagles starting XI
Jonah Usman – Ali Goyi, Shehu Abdullahi, Chizoba Amaefule, Ikechukwu Okorie – Ovokha Agboyi, Moses Orkuma (Uche Agbo 64), Abduljaleel Ajagun (Bright Ejike 90) - Edafe Egbedi, Chidi Osuchukwu (Alhaji Gero 80), Olanrewaju Kayode

Gabon
Rodolphe Ngouandzela – Gnassa Mangonda, Younga Ness (Junior Aubyang 77), Ngoye Abourou, Nguema Bengone (Nani Nono 9), Degter Sombela, Ndong Ibrahim, Meye me Ndong, Mvele Ebale (Davy Okobongo 40), Guy Bousougou, Davy Mayoungou
cecilia omorogbe