Ajimobi presents 267.4bn budget of stability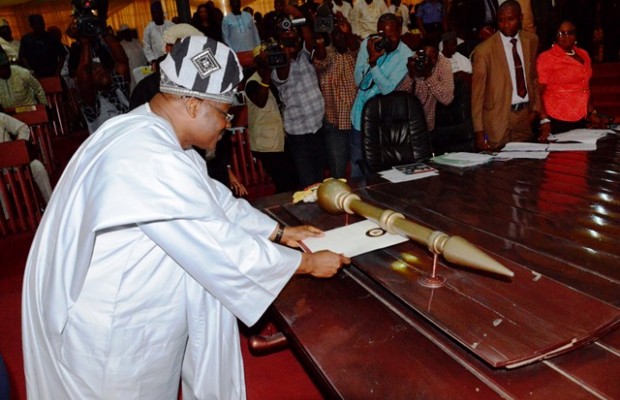 The Oyo State Governor, Abiola Ajimobi has presented a budget of 267 billion Naira tagged budget of stabilization to the Oyo state House of Assembly for approval.
---
The event also witnessed the defection of a Honourable member of the house, Hon. Oyebamiji Joshua from Akinyele 1 state constituency from the Accord party to the All Progressive Congress.

Governor Ajimobi says the 2018 budget has been carefully structured towards consolidating upon the gains of the previous years which he noted could be very challenging. In essence, the government is expecting about 93 billion Naira from the federation account in 2018 compared to 69 billion Naira that was received in 2017.

The Governor who put the performance of the 2017 budget at 78 percent noted that the implementation was hampered by the dwindling economic situation in the country.

Ajimobi added that the present administration is able to touch every sector of the state economy in the outgoing with the attendant impacts on the lives of people of the state.

In comparison, the 2018 budget is 60 billion Naira greater than the 2017 budget of 207 Billion Naira and 94 billion Naira greater than the 2016 budget of 173 billion Naira.

The internally generated revenue for the coming year is projected at 112 billion Naira compared to 2017 projection of 107 billion Naira .the improve in revenue is based on cost-effective revenue collection through the passage of relevant laws.

The total recurrent for 2018 is projected at 213 billion Naira while the capital receipts is estimated at 43 Billion Naira compared to 2017 estimates of 183 billion Naira as recurrent and 24 billion Naira as capital receipts for 2017.

In his response, the Speaker of the state House of assembly Hon Michael Adeyemo said the budget would be given an accelerated hearing and passage.

In another development, a member of the Oyo State House Assembly, a member of the Accord Party, Hon. Joshua Oyebamiji from Akinyele 1 state has defected to the All Progressive Congress in the state. He attributed his action to the fictionalisation of his former party.

The budget presentation was attended by Technocrats, members of the state executive council, Politician s and Royal fathers.
Highlights of Galaxy news
-          APC pulls out of Ekiti LG election
-          Fuel scarcity hits Ekiti
-          Senate continues investigation into EFCC, DSS, NIA clash
-          Bayelsa police shows concern over insecurity