$1billion meant for presidential, Ekiti elections- Fayose alleges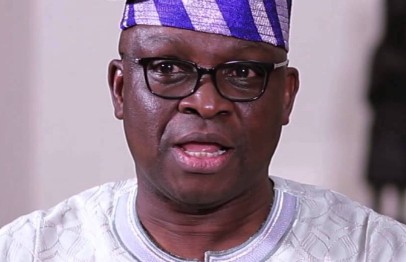 Governor Ayodele Fayose of Ekiti state alleged that President Muhammadu Buhari's approval of $1billion for the procurement of security equipment to fight Boko Haram insurgency, is a disregard for the constitution and rule of law, and in variance with the structure of a federating nation.
---
Speaking in Ado-Ekiti, Fayose qustioned when the National Assembly approved the spending of the money ''or can the president spend $1 billion belonging to Nigerians without the approval of the National Assembly?
According to him, Nigerians require explanations from the federal government "why up till now, the government is yet to give satisfactory explanations as to the abduction and return of the Dapchi school girls only to horribly approve the $1 billion to fight boko haram insurgency which  has become a source of looting public fund by this APC led government." he alleged.
The governor also alleged that the approval is evidently a pooling of public funds for the purpose of funding Buhari's reelection as well as the coming governorship elections in Ekiti and Osun states.
Reports by Deola Aderibigbe