Police rearrest Dino Melaye's accusers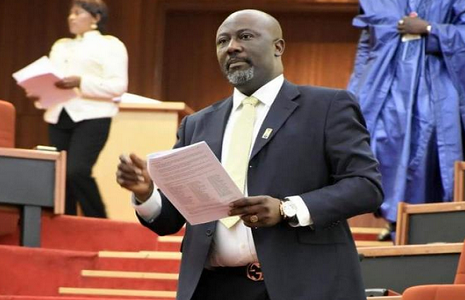 All the six suspects who were declared wanted after allegedly fleeing from police custody in Kogi State on March 28 have been re-arrested, by the Nigerian police.
---
Kabiru Seidu (a.k.a Osama), Nuhu Salisu (a.k.a Small), Aliyu Isa, Adams Suleiman, Emmanuel Audu and Musa Mohammed who were under detention at the 'A' Division Lokoja allegedly escaped from lawful custody hours before they were due to be arraigned in court in Lokoja, the state capital.
Addressing journalists while parading the suspects in Abuja, Tuesday, force public relations officer, Jimoh Moshood said the suspects were rearrested after a tip-off.
Moshood dangerous weapons and a total of four hundred and thirty thousand naira were seen in their possession.
The Suspects who confessed to the crime were formally arrested on allegations of working as political thugs and suspected assassins for senator Dino Melaye, a serving senator representing Kogi West Senatorial District.
The police said last month that two of the six suspects had confessed to being armed and financed by Melaye.
Melaye had however denied links to the suspects and threatened to sue the police for defamation.
The suspects were arrested at different locations with the last one, Seidu, being arrested on Sunday night in Bauchi State.
Recall that their alleged escape resulted in the redeployment of the former Kogi state police commissioner,  Ali Janga, to Force Headquarters.
The suspects were due for arraignment on March 28 when they escaped under unclear circumstances.