FRSC organizes workshop on road accident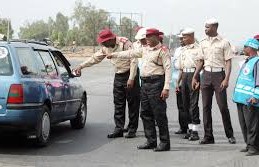 In line with the United Nations target of reducing road accidents by fifty per cent in the year 2020, the Federal Roads Safety Corps Delta state command has organized an annual workshop on the need to reduce crashes on Delta roads.
---
The workshop with the theme FRSC special marshals yesterday, today and tomorrow, was held at Osubi in Okpe local government area of Delta state.
Addressing participants drawn from the twenty-five local government areas of the state, the sector commander FRSC Delta command Ocheja Ameh said reducing accidents by fifty per cent is achievable.
On his part, the Delta state coordinator of the special marshals Mr. Dickson Amromarhe spoke on the importance of the workshop and the need to minimize crashes.
The workshop which brought together officers and men of the command from the twenty-five local government area of the state also led to the induction of new marshals and award presentation to the sector commander and the coordinator for their selfless service in reducing crashes in Delta state.