Buhari receives Barrow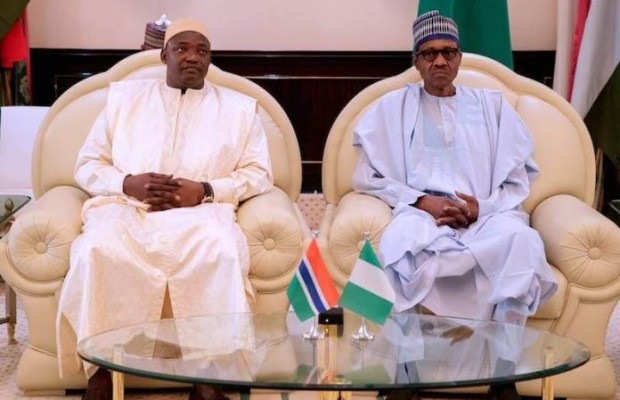 President of Gambia, Adama Barrow has thanked President Muhammadu Buhari for the role the Nigerian leader played in the political transition that ended the twenty-two years rule of former Gambian leader, Yayha Jammeh. 
---
The Gambian leader expressed his appreciation on Tuesday, January 16, when he visited President Buhari at the Presidential Villa in Abuja.
President Adama Barrow arriving the forecourt of the presidential Villa where he was received by Nigeria's president.
The new Gambia leader is in Nigeria to thank president Muhammad Buhari for his role in instituting democratic rule back into his country, Gambia.
It is his first time in Nigeria since he was sworn in February last year.
Barrow was sworn in two times after his formal inauguration was delayed by the reluctance of his predecessor, Yahya Jammeh, to vacate office.
Arising from the meeting with the Nigerian leader, President Barrow acknowledged the leadership role played by his host in the resolution of the political crisis in Gambia.
He  noted that Nigeria has over the years been quite supportive to Gambia, particularly in the areas of Education, Judiciary, and other technical matters.
The Gambian leader also commended the efforts of regional bodies such as ECOWAS, African Union AU and other international agencies that made interventions during the period of the political crisis in his country. 
President Buhari who received the Gambian leader alongside his entourage, said Nigeria and Gambia have agreed to draw up a political programme that will be of mutual benefit to both countries
It would be recalled that Adama Barrow won the December 1, 2016 Presidential election in Gambia but faced some political turbulence following the refusal of his Predecessor Yahya Jammeh to leave office.
Report by Nnabuchi Nnabuchi