We Need to Scale Up Efforts to Reduce Suffering of Displaced Persons, Refugees in Africa, Says President Buhari at AU Summit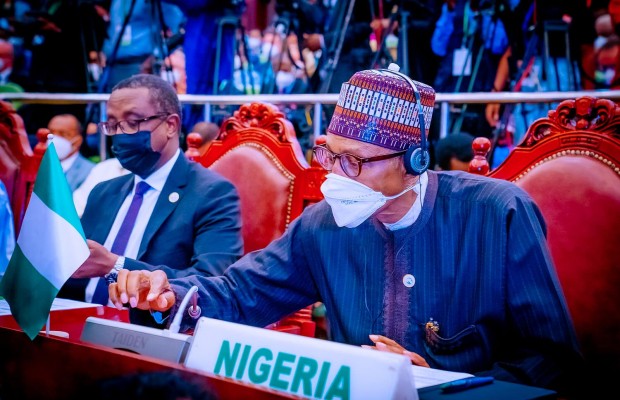 President Muhammadu Buhari has called for more concerted and institutionalized effort in ameliorating the suffering of refugees and Internally Displaced Persons (IDP) in Africa, saying only "collective and coordinated" approach would make a difference. In his remarks at the 16th African Union Extra-ordinary Session of Assembly of Heads of State and Government on Humanitarian Crises in African and Pledging Conference, holding in Malabo, Equatorial Guinea, President Buhari said more than five million people have been displaced in the Lake Chad region, with 70 percent of them mostly Nigerians. 
In Nigeria, President Buhari noted that the humanitarian crisis necessitated the creation of Ministry of Humanitarian Affairs, Disaster Management and Social Development, which was designed to provide a national response strategy.
The President said the ministry also broadened its scope of operations by caring for deprived school children in the country calling for the stablishment of an African Union Humanitarian Agency to cater for the growing needs of displaced persons and refugees. 
 The President thanked the African Union, government and people of Equatorial Guinea for providing the platform for leaders to deliberate and address pressing issues confronting the continent. 
While pledging three million U S dollars  ($3m) for the take off of the  African Union Humanitarian Agency, the President also appreciated the Specialized Technical Committee for their hard work to produce the statutes.
The African Union Chairman and President of Senegal, Macky Sall, pledged three million US dollars ($3m) on behalf of his country, urging other African leaders to contribute to the establishment of the humanitarian agency. 
The AU Chairman said the rising challenges of Climate Change, natural disasters and terrorism had made it mandatory to set up an Agency that would meet the needs of displaced Africans. The President of the host country, Teodoro Obiang Nguema Mbasogo, pledged four million U S dollars ($4m), with two U S million dollars ($2m) for the new Agency, while two million U S dollars ($2m) will go to Mozambique.