Ajimobi reduces over 50 aspirants to 4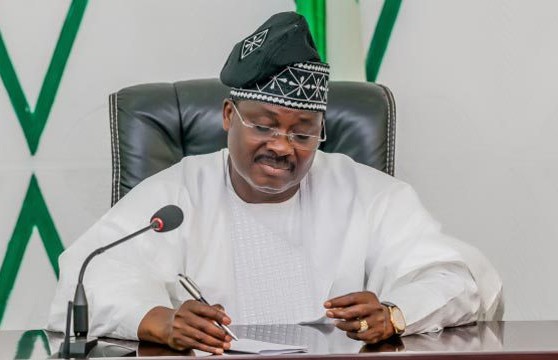 Oyo State governor, Abiola Ajimobi, has narrowed down the over 50 aspirants jostling to succeed him in the ruling All Progressives Congress (APC) in the state to four aspirants. 
---
Speaking in Ibadan during a visit by a delegation of Central Council of Ibadan Indigenes  (CCII), led the President General, Chief Yemi Soladoye, Ajimobi maintained that all the aspirants are qualified but stated that the state required the best.

Correspondent Kunle Ojo reports that the Governor said he needs somebody who will be godly, God-fearing, caring, full of vision,  and will have the courage to implement that vision. 

Reacting to the statement of chief Soladoye on the review of Olubadan Chieftancy law, Ajimobi noted that he took the step in good faith adding that if given another opportunity, he would do it again.

He charged members of the council to continue to promote peace and unity among the people of Ibadan.

Earlier in his remark, the President General of the Council, Chief Yemi Soladoye appealed to the Ibadan political groups to amalgamate their interests and generate a maximum of three candidates, who must be resourceful enough to take Oyo back to its pacesetter state for the next election. 

Soladoye said the council would in collaboration with the media organise issue-based public debates to enable the people to measure the potentials of the new regime to contribute to the growth, development and general wellbeing of the state and its people.