World fattest woman looses 323kg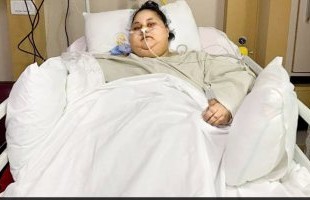 An Egyptian once believed to be the world's heaviest and fattest woman left an Indian hospital Thursday for the United Arab Emirates where she will continue treatment following drastic weight-loss surgery.
---
Eman Ahmed Abd El Aty weighed roughly 500 kilograms when she arrived in Mumbai in February, but has shed an astonishing 323 kilograms since undergoing a series of medical procedures.
With her weight now standing at 176.6 kilograms, she will begin a year-long course of physiotherapy at VPS Burjeel hospital in Abu Dhabi, her doctors in Mumbai said, according to the AFP.
"We have arranged for a hydraulic stretcher from Italy for Eman's journey and she will have doctors, paramedics and nurses with her during the journey," Sanet Meyer, director of medevac at VPS Burjeel, said.
Abd El Aty was put on a special liquid diet in India to reduce her weight enough so that doctors could perform bariatric surgery.
The stomach-shrinking bypass procedure is increasingly common in India, which has a growing problem with obesity, particularly in urban areas.
She had not left her home in Egypt's Mediterranean port city of Alexandria for two decades until she arrived in India on a specially-modified Airbus plane in February.