Trump concede peace between Palestine and Israeli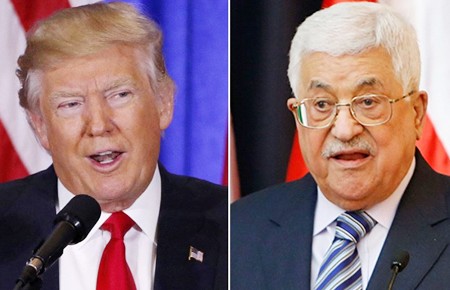 President Donald Trump has vowed to work as a "mediator, an arbitrator or a facilitator" to help broker peace between the Israelis and Palestinians as he welcomed Palestinian Authority President Mahmoud Abbas to the White House.
---
"We will get this done," Trump vowed.
The U.S. president reiterated the need for Israelis and Palestinians to broker a peace through direct negotiations and called on Palestinian leaders to "speak in a unified voice against incitement to violence and hate."
"There's such hatred, but hopefully there won't be such hatred for very long," Trump said, speaking alongside Abbas in the Roosevelt Room.
The Palestinian leader expressed his support for a two-state solution to the conflict and the long-held Palestinian desire for a capital in East Jerusalem, welcoming Trump's role as a mediator in peace negotiations.
He said he had "hope" about prospects for peace with Trump in that role as he praised the President for his negotiating acumen.
"I believe that we are capable under your leadership and under your courageous stewardship and your wisdom as well as your great negotiating ability; I believe we can be partners.
"True partners to you, to bring about a historic peace treaty," Abbas said through an interpreter. "Now, Mr. President, with you we have hope."
Trump expressed his desire to have Palestinians and Israelis draw on the Oslo Accords that Abbas signed onto as the Palestinian negotiator in 1993 and said he hoped the Palestinian leader would soon sign "the final and most important peace agreement."
But while Trump spoke broadly about his desires for a peace deal and some of the barriers to a deal, Abbas drilled down on the specific complaints and demands of Palestinians.
Abbas spoke of the importance of providing solutions that would address the situation Palestinian refugees and those imprisoned in Israeli prisons, referring to "the suffering of my people."
"Mr. President, it's about time for Israel to end its occupation of our people and of our land," Abbas said, referring to the Palestinian territories in the West Bank under Israeli control.