Rallies mark two years of exile in Bangladesh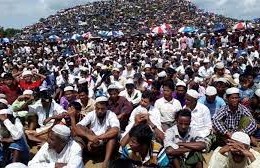 Tens of thousands of Rohingya held demonstrations inside their refugee camps in Bangladesh on Sunday, two years after their exodus.
---
Nearly 750,000 fled their native Rakhine state in Myanmar in August 2017 as a violent crackdown on the ethnic group surged.
On Thursday, Bangladesh set up a voluntary return scheme – but not a single Rohingya decided to leave.
They are calling for Myanmar to grant them citizenship before they return.
The Rohingya are a Muslim ethnic minority in Myanmar, most of whom live in Rakhine state, and have their own language and culture. But despite living in Myanmar for generations, they are not recognized as citizens or counted in the census.