CNN fires Kathy Gfiffin over trump photoshoot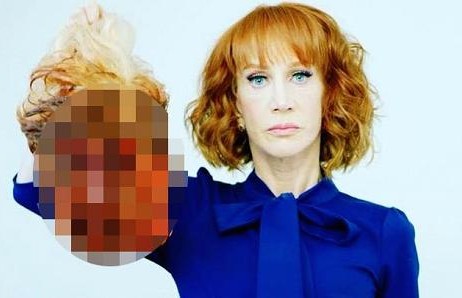 US television network CNN on Wednesday fired a comedian from its annual New Year's Eve coverage after she provoked outrage for being photographed holding up a prop depicting Donald Trump's bloodied severed head.
---
 The US president, Donald Trump condemed  Griffin's action  saying she "should be ashamed of herself" for the grisly-looking photograph. "My children, especially my 11 year old son, Barron, are having a hard time with this. Sick!" he tweeted.
In a B.T.S clip from TMZ, Kathy Griffin,56, who had co-hosted CNN's annual New Year's Eve coverage for the last decade, apologized on Tuesday and said she had asked the celebrity photographer Tyler Shields to remove the picture from the internet.
She has since apologized for the offensive tweet and shoot but still, CNN has dropped her as the official host for their annual New Year's Eve show.
CNN tweeted: