153 dead in Pakistan fuel tanker explosion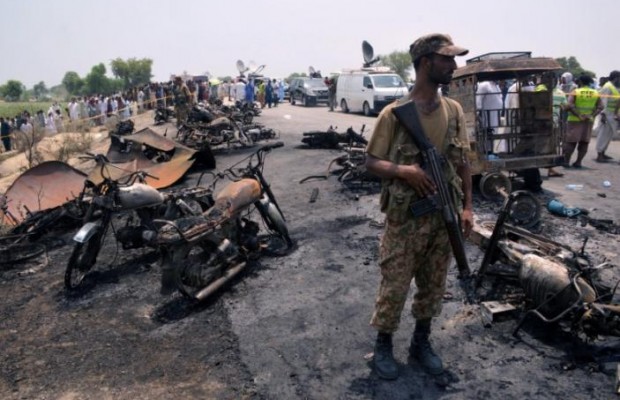 At least 153 people were killed Sunday when they rushed to collect leaking fuel from a crashed tanker in Bahawalpur, eastern Pakistan, before it suddenly exploded.
---
More than 118 people were injured in the explosion in the eastern province of Punjab, government officials and rescue workers said.
The disaster was one of several deadly events to mar the run-up to Monday's Eid al-Fitr holiday marking the end of the Muslim fasting month of Ramadan. At least 65 people were killed in bombings in two cities on Friday claimed by Islamist militants including the Pakistani Taliban and Lashkar-e-Jhangvi.
A burst tyre apparently caused the speeding fuel tanker to overturn on a sharp bend on a highway on the outskirts of the city of Bahawalpur, provincial spokesman Malik Muhammed Ahmed Khan said.
It was not clear what triggered the fireball but on Sunday, a spokesman for rescue services said someone was believed to have lit a cigarette.