Ronaldo finally handed a five-match ban for pushing ref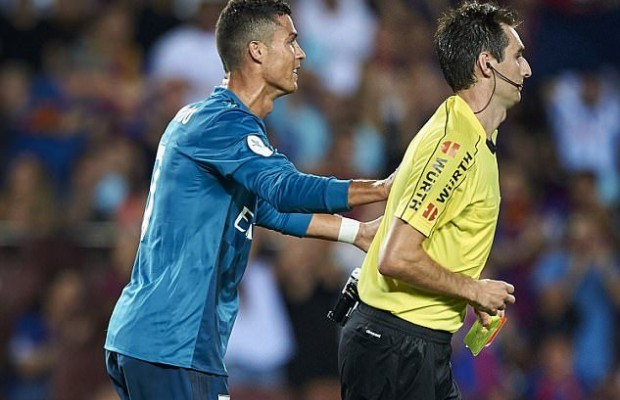 Cristiano Ronaldo has been handed a five-match ban for pushing referee Ricardo De Burgos Bengoetxea, following his sending off in Real Madrid's 3-1 Spanish Super Cup first leg win over Barcelona.
---
Ronaldo has received a one-game suspension for his red card and a further four games for pushing a match official.
The 32-year-old shoved referee De Burgos Bengoetxea in frustration after he was sent off for a second bookable offence, earned for simulation when he went down in the Barcelona penalty area under a challenge from Samuel Umtiti.
The shove will see Ronaldo spend five games on the sidelines, with the superstar set to miss the second leg of the Super Cup as well as the first four matches of Madrid's La Liga title defence.
Ronaldo is not set to be available for selection in domestic competitions until September 20 when Madrid face Real Betis at the Bernabeu.
Despite the severity of the ban, Ronaldo has got off relatively lightly with four games the minimum punishment handed to players who make contact with the referee.
Article 96 of the Spanish FA rulebook applies to players who 'grab, push or shake' a referee in a 'slightly violent manner' and recommends a four to 12 game suspension for such offences.
Report by Miyen Akiri