NFF launches short code to drive Russia 2018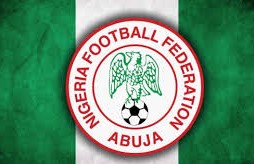 The Nigeria Football Federation on Monday in Lagos launched a short code - *1945# - which will be used for all campaigns that are geared towards Nigeria's preparation and participation at the 2018 FIFA World Cup finals in Russia.
---
The event was organized in conjunction with Secure and Trusted Alliance Services Limited – STA Mobile.
NFF 2nd Vice President/LMC Chairman Shehu Dikko, who is also Chairman of Marketing, Sponsorship and Television Advisory Committee, disclosed that the short code would be available for use by all NFF partners, sponsors and suppliers, in the process also revealing an 'Official Supporter' program into which corporate concerns not presently in relationship with the NFF can lodge to be part of Nigeria's 2018 FIFA World Cup excitement train.
In explaining the idea behind the short code, Jagun said the plan is for a total of 100 fans of the Super Eagles to win all –expenses paid trip to the 2018 FIFA World Cup finals, in four tranches of 25 people-a-month between January and April 2018.
"The Naija 4 Russia initiative is born in due season as a feel-good factor for the Super Eagles of Nigeria, which is at its highest-ever in the recent history of Nigerian Football. For the first time in the history of football in Nigeria, we have a VAS platform for the fans and supporters of Nigerian Football by way of a short code.
 A raffle draw conducted by STA at the event to pick the first Nigerian journalist that would be sponsored to the 2018 FIFA World Cup in Russia produced Miyen Akiri of Galaxy Television. Organizers announced that of the 25 persons that would be picked monthly for four months between January and April 2018, one would be a journalist.