Mission Impossible For Barcelona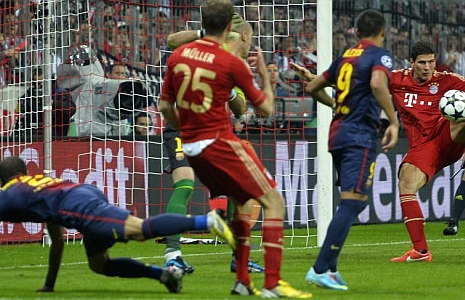 A breathtaking display by Bayern Munich was simply too overpowering for Barcelona in their first leg Champions League semifinal at the Allianz Arena in Munich. The final score read 4-0, and it could have been a lot worse for the Catalonians.

A first half header by Thomas Müller and second half goals from Mario Gómez, Arjen Robben and Müller earned the first two goals scored in strikingly similar fashion capped off a dominating display by the German side are now 90 Camp Nou minutes away from Wembley.

Hours before the match Barcelona received the good news that Lionel Messi was cleared to play. Barcelona manager Tito Vilanova slotted in Messi up front with Alexis Sánchez and Pedro, but it was a threesome that ended up producing very little. Meanwhile, in defense, Vilanova opted for youngster Marc Bartra at center back, a gamble having such a green player in a match of massive consequences.

In the first half there was one owner of the match and it was Bayern Munich. The Bavarians were relentless in their pressure of Barcelona and never allowed Barcelona any comfort over the ball. Furthermore, the Barcelona defense looked uneasy, especially Bartra who suffered through a nerve-wracking first 45 minutes and was clearly undone by the enormity of the match.

In attack, the Barcelona generated very little. Only a 29th ball across from Pedro to Messi posed a threat to the hosts. The Argentine striker was noticeably not at 100%, opting to pass the ball rather than take on Bayern defenders, when he was actually able to get a touch.

Bayern took a 1-0 lead to the locker room at halftime thanks to a 24th minute goal by Thomas Mueller. Defender Dante, who caused problems all night long for the visitors, headed a ball across the mouth of goal to Mueller who slipped in past Pique and beat Valdés. It was the height of the German side that made the difference and would make a difference later in the match.

Bayern also had two shouts for clear handballs in the first half, one on Sánchez and the other on Piqué, yet inexplicably were not whistled by the referee.

Four minutes into the second half, a Bayern corner kick from Robben was played into the area and this time it was Mueller playing provider, towering over the Barcelona defenders to head across to Mario Gómez who swung around and whipped the ball in from a mere two yards out. 2-0 to Bayern and disaster for Barcelona.

Down two goals and looking weak in attack, Barcelona tried to regain a hold of the match using their possession game, but still never troubled Bayern goalkeeper Manuel Neuer who enjoyed a peaceful evening.

Bayern made the return leg task even tougher in the 73rd minute when Robben struck. This time it started on a counterattack started by Franck Ribery. Eventually it made its way to Robben on the right flank and the Dutchman got past Jordi Alba -- thanks to a block set by Mueller that would have made countryman Dirk Nowitzki proud – and slipped in a left-footed shot past Valdes that snuck inside the far past.

Eight minutes later Mueller capped off the festivities by scoring the fourth that essentially ended the tie. The German international raced ahead of Jordi Alba and powered home an Alaba cross while a bewildered Barcelona looked on forlornly.

Barcelona do have a 4-0 win in a knockout round return leg in this Champions League campaign, but that was Milan. This Bayern Munich is a different animal, and its appetite for Europe's grandest trophy is hungrier than ever.
culled