Army, police storm venue of pro-Sowore protests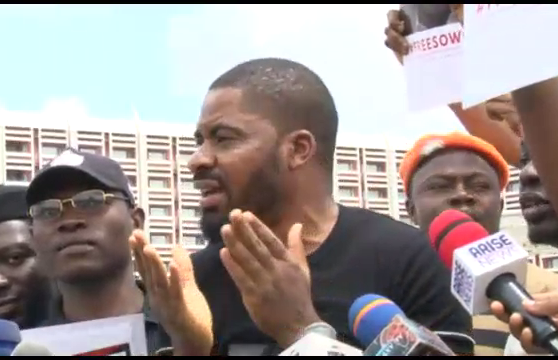 The Unity Fountain Park in Abuja Wednesday was besieged by a large number of security operatives supposedly drafted to stop a group of #RevolutionNow activists from going ahead with their protest in their call for the release of Omoyele Sowore and other activists in detention.
---
Galaxy's Godfrey Eshiemoghie reports that a group of military personnel, the Police and other agencies, including the fire service, made their way to the Park which is a rallying point for protesters about an hour to the commencement of the protest by the group which is a strong critic of the Buhari-led administration.
This was around 10  am about an hour before the planned protest by the pro-Sowore group.
With the fierce-looking and sometimes hostile security operatives around, practically everything came to a standstill.
But Dickson Iroegbu, an activist out to protest for Sowore's release and against the seeming repression by the Nigerian government, insists that the state of affairs of the country ought to be better.
The protest for Omoyele Sowore later went ahead unhindered, but under the close watch of security operatives.
Deji Adeyanju and some of his colleagues, apart from condemning the action of the security operatives at the Unity Fountain Park, stressed that Nigerians deserved better leadership.
Sowore, the owner of Sahara Reporters, an online medium and a presidential candidate during Nigeria's presidential election was arrested at a Lagos hotel on Saturday 3rd August after calling for a revolution in Nigeria.