Lagos on total lockdown as Buhari visits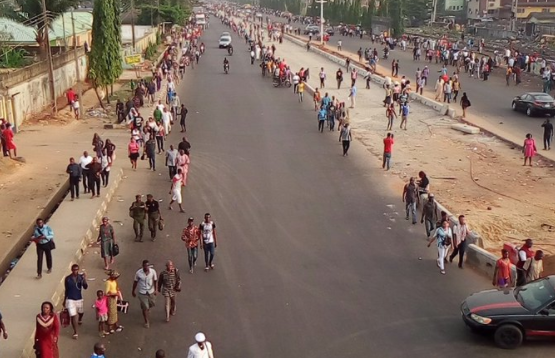 Thousands of Lagosians on Thursday, March 29, woke up to another stressful day as the major roads in the state are currently on total lockdown.
---
Hundreds of thousands of Lagosians were forced to abandon their vehicles as all their routes were unmotorable.
Galaxy television gathered that the Lagosians in their hundreds were left with no other choice than to storm the Lagos roads to trek several kilometers to their various destinations as the roads were manned with stern-looking military men and other paramilitary personnel. 
The cause of the lockdown of the Lagos roads could, however, be attributed to the planned visit of President Muhammadu Buhari, who intends to commission some major projects in the state and also participate in the 66th birthday celebration of the national leader of the ruling All Progressives Congress (APC),  Asiwaju Bola Ahmed Tinubu.
Some of the closed highways were the ever-busy Lagos-Abeokuta expressway (both ways), the Ikeja-Agege motor road, among other busy roads in the state.
Galaxy television observed that some overzealous metropolitans who tried to use their mobile phones to capture the development, were maltreated by the armed security men on ground.
Report by Godday Akoh