INEC Swears in Two RECs, Assures of Readiness for Saturday's Re-Run Elections.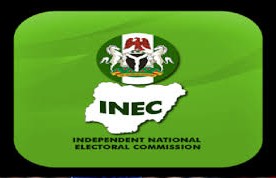 The Independent National Electoral Commission has sworn in two new Resident Electoral Commissioners, to fill vacancies existing in some states.
The new RECs are Dr. Alalibo Sinikiem Johnson from Bayelsa state and Mr. Umar Mukhtar Gajiram from Borno state.
At a brief swearing-in ceremony, held at the Commission's headquarters in Abuja, INEC Chairman, Professor Mahmood Yakubu told the new RECs that they would be immediately responsible for the implementation of the Commission's policies. 
Professor Yakubu who informed the new RECs that they could be deployed to any part of the country except their states of origin, depending on the exigencies of the job, immediately announced that Dr. Johnson is deployed to Cross River State while Mr. Gajiram is deployed to Taraba State. 
He told the new officials that their deployment is coming three days to the conduct of several re-run elections ordered by court order.....hence the need to get ready to work.
Professor Yakubu said there will be no substitution of candidates since the elections are not bye-elections with a period for nomination of candidates lapsing since the end of 2018 in preparation for the 2019 general election. 
He also assured Nigerians of the Commission's readiness for the re-run elections as all sensitive and non-sensitive materials have been deployed to the States.
Dr. Alalibo Sinikiem Johnson who responded on behalf of the new RECs promised to deliver on their mandate.