We are careful on rescue of girls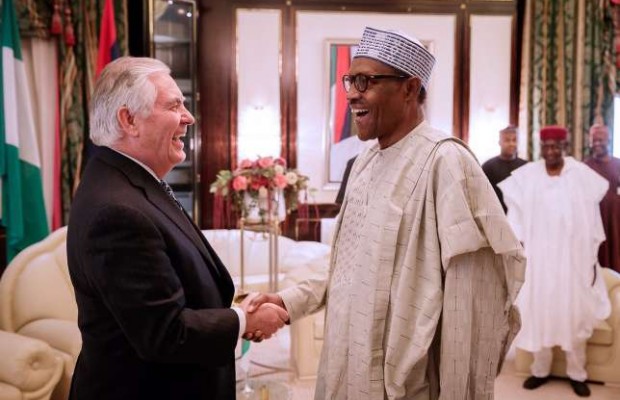 President Muhammadu Buhari says Nigeria has chosen negotiation, rather than the military option to ensure that the schoolgirls abducted by Boko Haram from Chibok and Dapchi return to their parents alive.
---
Receiving the American Secretary of State, Rex Tillerson, in the audience at State House, Abuja, on Monday, March 12, President Buhari added that Nigeria was working in concert with international organizations and negotiators, to ensure that the girls were released unharmed by their captors.
Received by the minister of foreign affairs, Geoffery Onyeama, Mr, Tillerson made his way to the presidential chambers where the discussion on bilateral relations with President Muhammadu Buhari was made.
At the chambers, President Muhammadu Buhari thanked the American government for her assistance in the fight against insurgency, calling for assistance to boost efforts of the  Nigerian forces who had degraded Boko Haram.
The President also promised that his administration would continue to do its best to secure the country, adding that he would be in Yobe State, where Dapchi schoolgirls were abducted later this week as part of his condolence and sympathy visits to areas where there were unfortunate events.
After their meeting, the visiting Secretary of State addressed state house correspondents where he commended President Buhari on his strides in the anti-corruption war.
He said the US government supports Nigeria in its challenges and will also support opportunities to expand the economy, commercial investments, and peaceful polls in 2019.
He described Nigeria as an important ally of the US, saying his country will support the Nigerian military to subdue insurgency and rescue the abducted girls.
Tillerson's visit to Nigeria was part of his tour to African countries. 
Report by Nnabuchi Nnabuchi