Traders cry out over Onitsha market inferno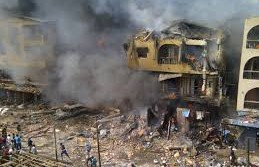 Victims of the unfortunate incident of fire outbreak in Onitsha have continued to call for help.
---
According to some of them, though the fire did not kill anyone, the effect of the damage it created on their businesses are unbearable, they said if nothing is done to salvage the situation by providing them some of them might die as a result of thinking.
The inferno which started about 5am on Sunday morning lasted for hours. On arriving at the scene galaxy TV crew saw the victim recounting their losses.
Speaking on the incident the president general of bridge sell market, Sunday Obinze expressed shock at the extent damage, and said he alerted both the bridgehead fire service and their main market counterparts together with manual assistance by the line and market members in efforts to put the fire off but the efforts did not yield much result.
He consoles the traders, urging them to have trust in God. In his speech, the chairman association of drug and pharmaceutical products dealers associations Onitsha, Mr Ucheze who disclose that almost all shops on the lines were affected, said nothing was removed in those shops including cash, he appeals to state and local government to come to their aid.
Adding his voice, the secretary and pro of the market, Chimaze Opala and Okudili Maduka appreciated the effort of the traders in preventing the fire from escalating.
While narrating their Odeal some of the affected victims which including Chukuabuka Eric, Chinwa Apata, Ikechukwu and Chiduwan Uzuwan, among other's jointly counted their losses; they also stated that some of them just unloaded their goods a day before the incident, and appeal to the market union and state government to assist them.
As at the time of filling this report no government officials nor Personnel from it agencies have visited the scene of the incident, despite the huge amount running in several millions that were lost.