Saraki enters NASS complex in spite siege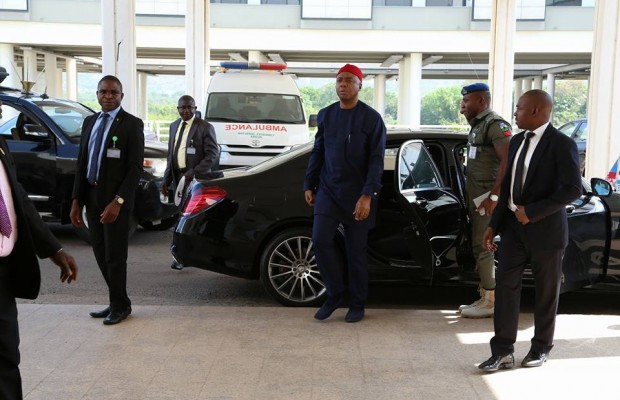 In spite the siege and the attendant uproar at the National Assembly on Tuesday, Senate President Bukola Saraki found his way to the Parliamentary building.

---
He received a heroic welcome by supporters and Parliamentary staff present at the scene.
The embattled Senate President who is currently the man in the eye of the storm was all smiles as he greeted his fellow PDP lawmakers from both Chambers at the National Assembly premises.
Unconfirmed report has it that Saraki was in his inner chamber all through the incident of Tuesday.
APC Senators were not in sight at the time of the Senate President's appearance late this afternoon.
The Senate President is scheduled to hold a world press conference to address journalists on Wednesday.
Meanwhile, the joint leadership of the National Assembly has postponed till further notice the earlier scheduled meeting to discuss the pending INEC budget for the 2019 general elections and a host of other pressing matters which the Presidency has hinged its call on the National Assembly to suspend its lengthy recess and reconvene.
A press statement jointly signed by the Senate President Bukola Saraki and Hon. Yakubu Dogara, the Speaker of the House of Representatives says following the events of Tuesday, it will be difficult to guarantee the safety of the 20 principal officers from both chambers expected to attend the meeting.
Saraki and Dogara thanked their colleagues in the Senate and House of Representatives who mobilized to resist what they termed as coup against democracy noting they have acted to avert the breakdown of constitutionalism and collapse of the rule of law standing up to dictatorship.
Reports by Godfrey Obemeata