PDP Rejects Wednesday's Judgment On Imo, Calls For Resignation Of CJN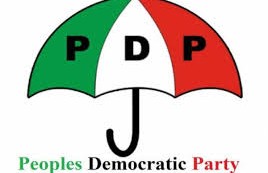 Nigeria's main opposition party, PDP, has called for the immediate review and reversal of the decision of the Supreme Court on the Imo State governorship tussle.

The PDP also demanded that Justice Tanko Mohammed immediately steps down as CJN and chairman of the National Judicial Council 
 Addressing journalists  in Abuja, the party's national chairman, Uche Secondus, said there demands when granted,  would be in the interest of justice in the country.
 Mr Secondus advised Justice Tanko not to allow himself to be used to push the nation to the path of anarchy and constitutional crisis as any further attempt to subvert justice in the pending petitions on Sokoto, Bauchi, Benue, Adamawa as well as Kano and Plateau states would be firmly and vehemently resisted.
Prince Secondus also asked the six other justices that delivered judgment on the Imo case to recuse themselves from the remaining election petition cases pending before the Honorable Emeka Ihedioha declaring Senator Hope Uzodimma as validly elected candidate of the 2019 general election in Imo State.