Armed Militia kill 21, raze houses, properties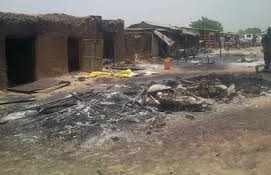 Twenty-One people have been killed in Okokolo community in Agatu local government area of Benue state by armed militia on Sunday while property and buildings worth millions of naira were razed and destroyed by the suspected militia.
---
An indigene from Agatu, Mr John Ikwulono, said some youths from Abugbe community and hired militia at the early hour of yesterday Sunday, attacked Okokolo village killed and set houses ablaze.
Ikwulono said the incident took place when villagers were in their various Churches worshipping God.
He regretted that the attack, which he described as barbaric, unwarranted and inhuman, occurred after a series of peace meetings have been called.
He stated that a day before the attacks, Agbaduma and Abugbe community signed a peace agreement and promised to remain peaceful and ensure that there would be no further problem among themselves.
Ikwulono confirmed that 21 people were found dead from Okokolo including Mr Baba Odoje, Shaidu Magaji (a retired military man), Mr Oloche Obiabo (Kaddo) and Mr Adehi Imaikwu.
He, however, said the military and the police have been deployed to the place.