Oyo Governor Personally Distributes Palliatives to Residents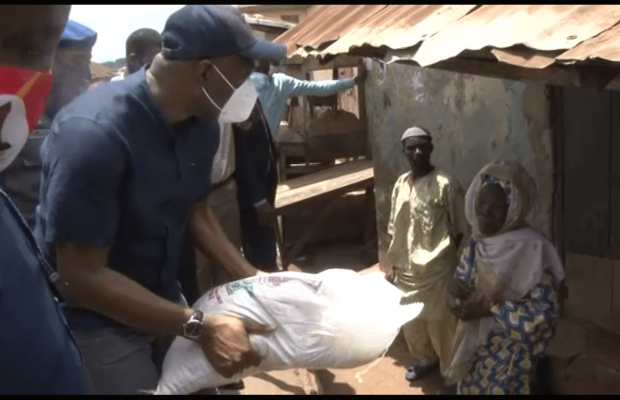 In a determined effort to ensure that the palliative materials reach the poorest of the poor in the state, Oyo State Governor, Seyi Makinde has embarked on a house to house distribution of the materials.
The exercise which started around Oke-Ado Area of Ibadan, the state capital took the Governor and his entourage to Foko, Beers, Mapo, Oja Oba among others.
Correspondent Kunle Ojo reports that residents of these areas trooped out in their hundreds to receive the palliative from Governor Makinde who stated that he was on personal distribution of the materials.
The Governor assured those that are yet to receive the palliative to be calm stressing that the materials would soon reach them.
Speaking with Journalists after the exercise, the Special Adviser to the Governor on Agribusiness, Dr. Debo Akande says the ongoing distribution of palliatives to identified 120 households across the state has no political undertone.
He added that the palliative was purely for the identified poorest of the poor in the society, irrespective of political party affiliations.
Dr. Akande disclosed that not less than 10,000 farmers would benefit from the state government support for the planting season within the next two weeks.