New born baby rescued from insane mother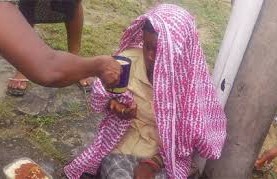 Two good Samaritans in the early hours of today retrieved a new born baby girl from the hands of his mentally deranged mother few minutes after she was given birth to.
---
 The insane woman who have been living under the Effurun bridge in Uvwie local government area of Delta state three years after the bridge was completed by former governor Emmanuel Uduaghan, immediately went to sleep after delivery.
Our Correspondent  Dele  Fasan who was returning from church witnessed the incident and filed in this report.
It could be described as a miracle delivery as the baby was delivered on a cold floor under the bridge with the rains drizzling while the mother immediately fell asleep.
The good Samaritans a man and a woman selling wares under the bridge took the baby to the Uvwie local government council where she was handed over to the council chairman Mrs Debby Otiotio  who was having a church service at the council.
Speaking on the baby, they narrated how the insane woman struggled the previous night before delivery in the early hours of today.
Worshipers at the council secretariat came out in their numbers to see the new born miracle baby girl as the baby was immediately handed over to a nurse for onward transfer to an undisclosed hospital.
Although, the mentally deranged woman was still sleeping under the bridge as at the time of filing this report, the nurse promised to return and take her for proper medical check-up.