Man butchers ex-fiance in Labone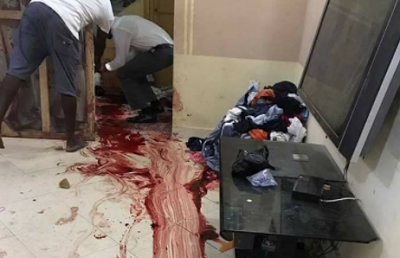 A Ghanaian man has on Thursday, May 11, butchered his ex-fiance to death after she refused to reconcile with him in Labone, Ghana.
---
The deceased was said to have left the relationship with her kids after she noticed she could no longer cope with the consistent abuse against her. The lady was said to have left his ex-fiancé's house for her aunt's house where she was butchered.
In his own way of reconciling with his spouse, the Ghanaian man went to visit his former spouse in her aunt's place with a matched strapped to his thigh.
On getting to her house, the lady refused to reconcile with him while the man in turn pulled out his machete and repeatedly butchered her.
While the man ran to avoid arrest, the lady was left in a pool of her own blood until neighbours came to her rescue and tried taking her to the closest hospital where she gave up the ghost
According to reports, the culprit returned to the hospital to see if his deceased had died, before he was finally apprehended by the police.