Iwo residents panic following banks robbery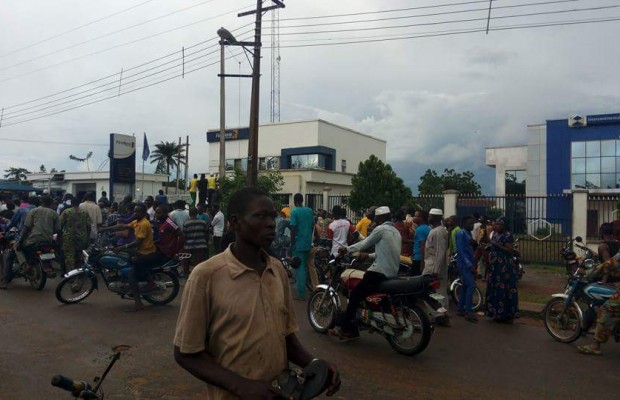 Aftermath of Tuesday's armed robbery incident on three banks in Iwo town , Osun state, which left 4 policemen and one robber dead, Bank customers were seen engaged in panic cash withdrawal on Wednesday
---
 This is just as the monarch of the town has promised a handsome reward for whoever has information that can lead to the arrest of armed robbers.
The armed robbery attack on the 3 commercial banks along Bowen University road, Iwo was said to have been carried out the same time the divisional Police Headquarters in the town was attacked.
The attack has forced the 3 commercial banks along the bowen university corridor to close for business after an undisclosed amount of money was carted away.
Customers besieged the banks' automated teller machines on Wednesday to make panic withdrawal.
The armed robbers are still at large and the banks are already counting their losses.
Galaxy news learnt that a similar incident some years ago forced another commercial bank out of the town.
Residents as well as the traditional ruler of Iwo land, Oba Abdulrasheed Akanbi want security to be tightened in the area.