IPOB protesters clash with police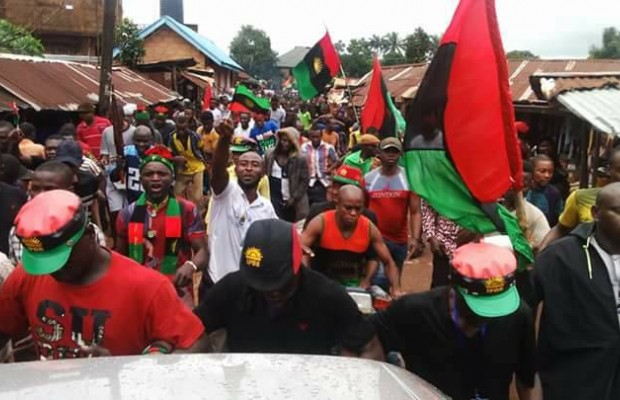 Barely few weeks after the remembrance of Odumegwu Chukwuemeka Ojukwu in Owerri, the Imo state capital, the Ralph Uwazurike-led MASSOB faction clashed with the police.
---
They took to the street in Umahia the Abia state capital southeast Nigeria and vowed to carry the struggle for Biafra in a non-violent manner,
 Unlike previous times, they all appeared in white Jews apparel as they massively in the peace walk the streets of the Umahia with various sizes of Viagra flags from the house of their leader down to the market gate. 
At some point between the Umahia market gate, the peaceful protest turned violent as police forcefully repel them from moving any further. The situation became worst for the IPOB members when army personnel later joined the police in the operation. 
Shootings into the air and dispatch of tear gas ensued leading to the arrest of many of IPOB members.
When contacted, the police commissioner Christ Ezike confirmed the incident and promise to keep the situation under control in the best interest of law abiding members of the public.
Effort made to get IPOB side of the story prove abortive as none of them could be reached,  They have all fled into various hideouts..
The protest is coming in the wake of claim by the leader of the indigenous people of Biafra Nnamdi Kanu that PMB is being cloned
  Reports by Ajibade Awofeso ( Abia state correspondent)