Woman orders thugs to brutalize gateman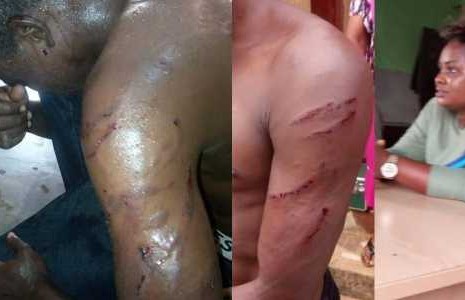 The Asaba police headquarters in Delta state have apprehended and detained the CEO, Esenty security services in Asaba, Delta State.
---
The CEO of the security firm was arrested after she allegedly ordered her thugs to brutalize her gateman for demanding his salary. The Esenty security services' boss is currently being detained at the Human Rights Office of the police command.
John, the gate man was allegedly beaten up by some thugs hired by his boss, who was angered by his salary request.
According to activist Gwamnisu, the founder of Behind Bars Rights Defenders, John had been working for his Madam without pay, but on that fateful day, requested for his salary, only for the woman to unleash her thugs on him.
He was allegedly locked up inside the toilet and brutalized. The case was, subsequently, reported to the police and after many weeks, the boss has been arrested and will soon be charged to court.
Report by Godday Akoh