Five injured as tanker losses control in Ibadan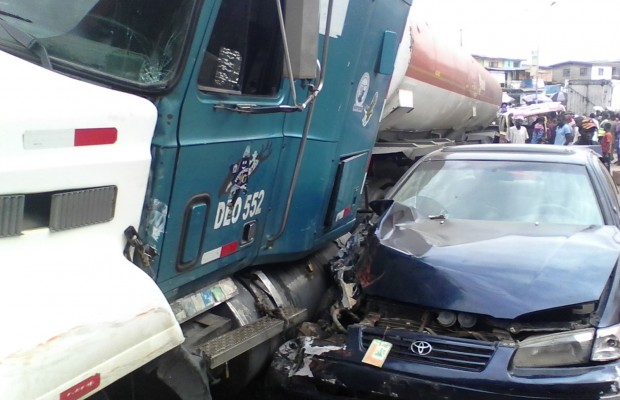 Five persons were injured in Ibadan, the Oyo state capital on Sunday when a truck filled with premium motor spirit, otherwise known as petrol lost control.
---
 The incident which occurred at academy Iwo road led to panic in the area while those who escaped from the incident were grateful to God.
Our correspondent who was at the scene reports that the driver of the truck was coming from Monatan area of Ibadan when the break of the vehicle failed.
The driver in an attempt to stabilize the truck lost control and crossed the road divider to the other lane. It further broke the gate of a filling station in the area and damaged one the nozzles before it was stabilized.
The incident led to traffic in the area as most of the traders who displayed their wares beside the road left hurriedly while officials of the Federal Road Safety Corps have been deployed to the scene.
Five vehicles were badly damaged by the truck while those injured have been moved to the hospital.
Recall that similar incident happened last Thursday along the same route when a truck filled with gas fell on the highway.