Fire outbreak destroys items in Ibadan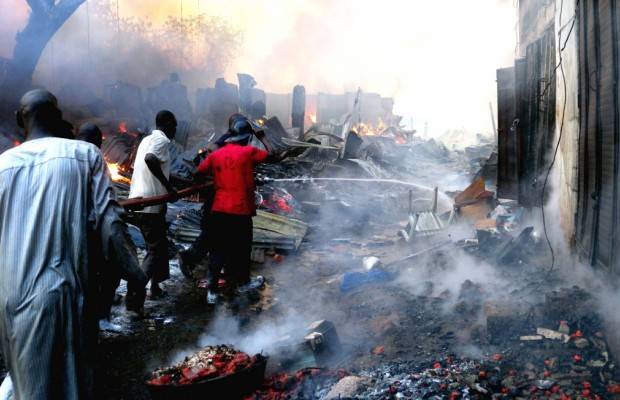 Items worth millions of naira have been lost after an inferno around the Yemetu Aladorin area of Ibadan, the Oyo state capital.
---
This is the second time the inferno is claiming items worth several millions of Naira in the same part of Ibadan.
The inferno which started around noon, Sunday, was orchestrated by an electrical spark from the building which was followed by an explosion.

It was gathered that the inferno started from the back of the building before it spread to other rooms including a shop filled with gas cylinders which further aided the expansion of the fire.

 Sympathisers who rushed to the scene prevented the inferno from spreading to other buildings in the area before the arrival of men of the fire service.

Residents of the area who commended officials of the Oyo state fire service for their prompt intervention advised the state government to ban those dispensing gas from residential areas.
The Director of the state fire service, Adewuyi Moshood blamed the incident on lapses on the part of occupants of the building.
He, therefore, urged residents of the state to always be vigilant in order to prevent such occurrence.

Although no life was lost in the fire incident, two persons were however said to have sustained a high and pitiable degree of injuries during the rescue operations.