FG raises alert as vandals steal clips on Lagos-Ibadan rail line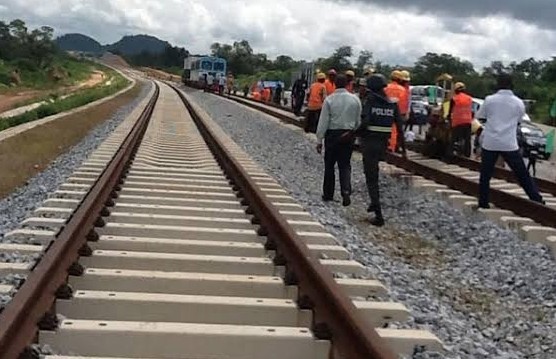 The federal government has raised an alarm over the stealing of pilfering clips and bolts on the newly constructed Lagos-Ibadan rail line.
Also, some passengers who boarded the free train service initiative of the federal government lauded the arrangement and called for more improvement.
The free train service from Lagos to Ibadan started on December 2nd, 2019 after the inspection of the facilities by the Vice President, Prof. Yemi Osinbajo alongside minister of transportation, Rotimi Amaechi.
However, the federal government has raised an alarm over the safety of the facilities following the pilfering of clips and bolts on the recently completed Lagos/Ibadan rail line.
The Oyo District Manager for Western operations, Nigeria Railway Service, Engr.Angelic Ekuka while speaking with Journalists at the Ologuneru terminal decried the ugly incident, noting that there is a need for safety measures along the rail line.
Addressing some of the passengers that could not be part of the morning trip, Ekuka stated that the corporation is making judicious use of the two coaches on ground which accommodate 40 passengers adding that the situation would improve soon.
Some of the passengers who made the morning trip from Ibadan to Lagos commended the government for the initiative.
Others who could not called for better arrangement to accommodate more people as well as adequate information on the scheduled.