Buhari takes $496M fighter jets request to Senate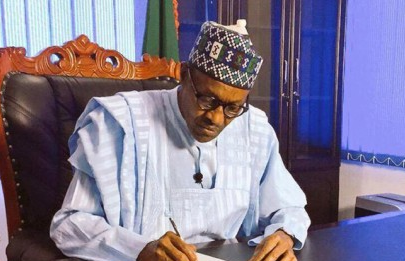 President Muhammadu Buhari has written a letter to the Senate informing it of plans to pay the sum of 496million Dollars equivalent of 151billion Naira for the purchase of 12 Super Tucano jets to fight the militant group, Boko Haram.
---
The letter to this effect was read by the Senate President, Bukola Saraki at the Red Chamber at Thursday's plenary.
The same Presidential request for the purchase of the fighter jets at the House of Representatives prompted a call for the President's impeachment barely 24 hours earlier.
And at Senate, however, there was not a repeat of the rowdy session that followed the call for the President's impeachment, but Senator Matthew Urhoghide noted that the Presidency is acting in breach of the Constitution.
Citing Section 80 subsections 1,2 and 3 of the Nigerian Constitution says making withdrawals from the Federation Account without appropriation by the National Assembly amounts to illegality.
In ruling on the submission of Urhoghide, the Senate President says the matter will be addressed properly on the next legislative day.
The sale of the fighter jets was originally agreed by former President Barack Obama's administration but was put off after incidents including the Nigerian Air Force's bombing of a refugee camp in January that killed 90 to 170 civilians came up.
But on 2 August, the deadlock was broken by the Pentagon's Defense Security Cooperation Agency, when it announced that the sale would eventually go ahead.
Report by Godfrey Eshiemoghie