Auto crash kills two, injures scores in Awka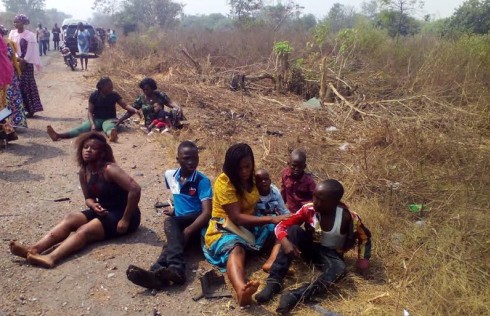 Two persons have been confirmed dead, while several others have been left with various degrees of injuries after a deadly auto crash along the Awka - Enugu Expressway.
---
The ugly incident occurred after an eighteen-seater bus as a result of overspeeding, lost control and ran against an electric pole on the highway. 
While confirming the incident, the federal road safety corp, Anambra state sector command says despite the campaign by the agency on overspeeding and it consequences some road users are yet to key in into idea.
The sector commander,

Sunday

 Ajayi said the within limit speed campaign of the corp is
 design mainly to reduce road crashes for the benefits of motorists.
According to an eyewitness, the driver of the eighteen seaters commercial bus was at a very high speed when he lost a tyre of his vehicle, and lost control over the vehicle.
A further visit to the hospital where the victims were rushed to reveals that the driver was indeed driving recklessly, some of the survivors who spoke to galaxy news said one out of the t
wo persons who died was encouraging the driver to speed on and not to mind the caution of those asking him to reduce the speed at which he is moving.
However not too long after the warning the tire burst and the rest was history.
Report by Ajibade Awofeso