Atiku pays courtesy visit to Ekiti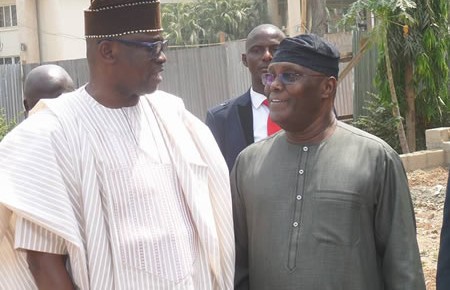 Former Vice President; Atiku Abubakar on Thursday, January 25, visited Ekiti state to meet with the state governor and party
stakeholders.
---
Atiku and his team, who were received at the Akure Airport in the Ondo state capital before heading for Ado-Ekiti, the Ekiti state capital, inspected
on-going projects in the state and applauded Governor Ayodele Fayose's performance.

The former vice president and PDP steward described Fayose as a brave, influential and calculative politician who is strategically positioned to reposition and project the PDP.

He declined comments on the recent open letter written by the former president, Olusegun Obasanjo in which he asked President
Muhammadu Buhari not to seek re-election but expressed disappointment in the Buhari government.

Governor Fayose was excited that Atiku chose to make Ekiti state the first point of call for the purpose of consultation with
party members since he decamped from the ruling All Progressives Congress (APC).

Fayose, who chairs the PDP Governors' Forum and an aspiring presidential candidate, said Atiku's possible interest in the presidency would not really
cause any clash as he believes providence will play a major role.

He opined that Nigerians need to effect another political change next year judging by the scorecard of the present regime which he rated
low.
Report by Adeola Aderibigbe