US, Iraq- ISIS blew Mosul historic mosque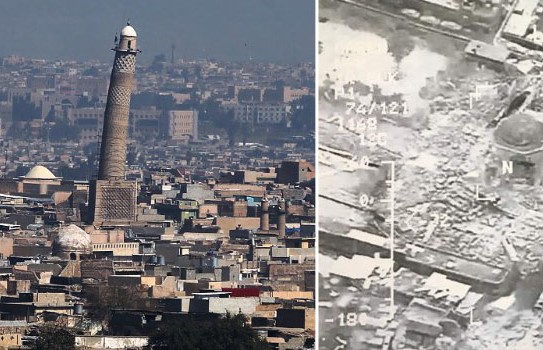 The United State and Iraq said The Islamic state militant blew up an historic mosque in Mosul that was the ideological heart of the terror group and the birthplace of its self-declared caliphate.
---
ISIS, through its news agency, said US warplanes were responsible for the loss late Wednesday of the Great
Mosque of al-Nuri and its leaning minaret.
US officials told reporters the ISIS claim was "1,000% false."
Iraq Prime Minister Haider al-Abadi said the ISIS act amounts to "an official announcement of their defeat." His military commanders said militants blew the mosque up after troops closed in.
It's difficult to overstate the symbolism of the Old City mosque that has witnessed fierce fighting between ISIS militants and coalition forces determined to liberate what was the country's second-largest city.
For years, the militant group's black and white flag fluttered from the minaret, which has risen over the city for 800 years. Now the site has largely been reduced to rubble.
On July 4, 2014, ISIS leader Abu Bakr al-Baghdadi led Friday prayers in the mosque. Shrouded in a black turban and robes, the cleric declared the founding of a new caliphate and called on fellow Sunnis to carry out a holy war.