Trump jr releases emails of Russian effort to aid Hillary's campaign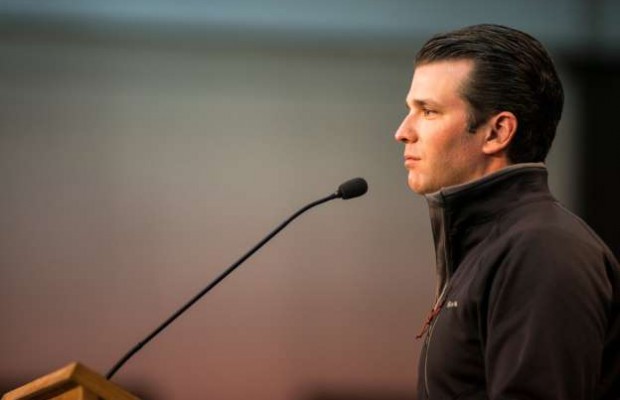 Before meeting with a Kremlin-connected Russian lawyer he believed would offer him compromising information about Hillary Clinton, U.S. President's son, Donald Trump Jr has been forced to release damning emails that reveal he eagerly embraced what he was told was a Russian government attempt to damage Hillary Clinton's election campaign.
---
 Trump jr was informed in an email that the material was part of a Russian government effort to aid his father's candidacy, according to three people with knowledge of the email.
The email was sent by Rob Goldstone, a publicist and former British tabloid reporter who helped broker the June 2016 meeting. In a statement on Sunday, Mr. Trump acknowledged that he was interested in receiving damaging information about Mrs. Clinton, but gave no indication that he thought the lawyer might have been a Kremlin proxy.
Mr. Goldstone's message, as described to The New York Times by the three people, indicates that the Russian government was the source of the potentially damaging information. It does not elaborate on the wider effort by Moscow to help the Trump campaign. There is no evidence to suggest that the promised damaging information was related to Russian government computer hacking that led to the release of thousands of Democratic National Committee emails.
The stunning disclosure raised questions over whether campaign laws were broken and why senior Trump associates failed to report a hostile act by a foreign power.
Trump Jr also admitted on Tuesday night that he could have handled the situation better but he had not told his father about meeting a Russian lawyer because "it was a nothing".
The emails show music promoter Rob Goldstone telling the future US president's son that "the crown prosecutor of Russia" had offered "to provide the Trump campaign with some official documents and information that would incriminate Hillary and her dealings with Russia and would be very useful to your father".
British-born Goldstone adds in the exchange of 3 June 2016: "This is obviously very high level and sensitive information but is part of Russia and its government's support for Mr Trump."
Seventeen minutes later, Trump Jr welcomes this with the reply: "If it's what you say, I love it, especially later in the summer."
In a later email, Goldstone describes the Russian lawyer they are due to meet, Natalia Veselnitskaya, as a "Russian government attorney".
Trump Jr agrees, adding that he would probably be accompanied by "Paul Manafort (campaign boss)" and "my brother-in-law," Jared Kushner, husband of Trump's daughter Ivanka and now a senior White House adviser.
The formatting of the emails suggests that Trump Jr forwarded the whole chain to Manafort and Kushner before the meeting the three attended with Veselnitskaya at Trump Tower in New York on 9 June.


see email: