Irish prime minister cause controversies as he attends gay pride event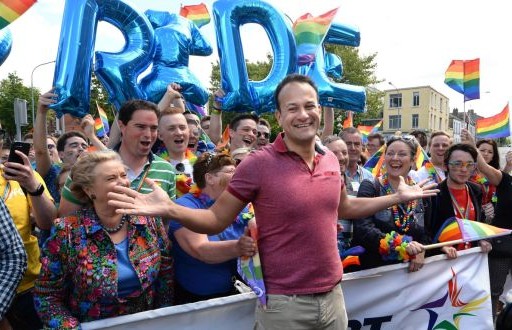 Irish Prime Minister Leo Varadkar attended a gay rights event on Saturday during his first official visit to Northern Ireland, upsetting some social conservatives in the only region of the United Kingdom where same-sex marriage is still illegal.
---
 Varadkar, who became Ireland's first openly gay leader when he took office in June, joined activists preparing for Northern Ireland's largest gay pride parade for a "Pride Breakfast" in a Belfast pub.
He said he was unable to attend the actual parade due to a prior commitment in Dublin.
His attendance was criticised by some members of Northern Ireland's largest party, the socially conservative Democratic Unionist Party, whose 10 seats in the British parliament prop up the government of Prime Minister Theresa May.
The DUP has repeatedly blocked attempts to allow same-sex marriage despite opinion polls that indicate it is supported by a significant majority in Northern Ireland.
"I am not here to unsettle anyone, but I am here to show my support and the support of my government for equality before the law for all citizens no matter where they reside," Varadkar told journalists on his way in to the event.
Asked about the prospects for legalising same-sex marriage in Northern Ireland, Varadkar said: "It is only a matter of time."