At least 23 dead, as winds fan California wildfires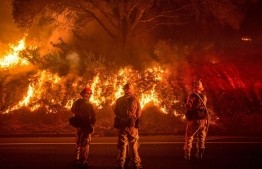 Firefighters facing a resurgence of high winds on Wednesday struggled to halt wildfires that have killed at least 23 people, destroyed 3,500 structures and left hundreds missing in chaotic evacuations across northern California's wine country
---
 Nearly two dozen blazes spanning eight counties have charred around 170,000 acres (68,797 hectares).
Flames erupted on Sunday night when gale force winds toppled power lines across the region, possibly igniting one of the deadliest wildfire outbreaks in California history.
The entire town of Calistoga, a Napa Valley community of some 5,000 residents spared from advancing flames the first night of the fire, was ordered to evacuate on Wednesday evening, as the county sheriff's office warned that conditions had worsened as the so-called Tubbs Fire was burning nearby.
"The Tubbs Fire has made slow progress to this point but significant winds are still forecasted," the city said in an online alert.
Flames were spread rapidly by hot, dry "Diablo" winds - similar to Southern California's Santa Ana winds - that blew into northern California toward the Pacific on Sunday night.

The official cause of the fire has not been determined. But electric wires knocked down by those same winds may have sparked the conflagration, according to Daniel Berlant, spokesman for the California Department of Forestry and Fire Protection (Cal Fire).
Source: Reuters