At least 11 missing as heavy rain pounds Japan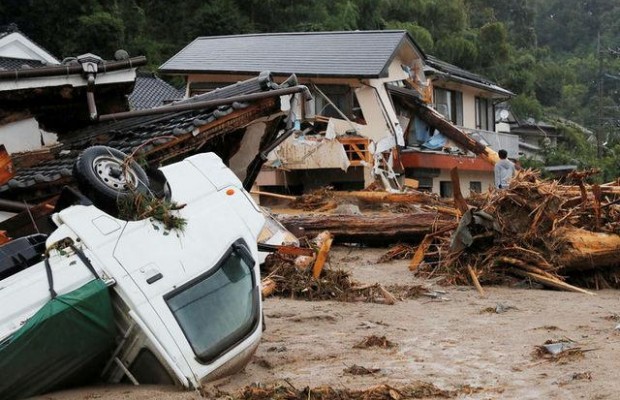 One man was dug out of a landslide without any signs of life and two women were injured as record rains battered southwestern Japan for a second day on Thursday, with flooded rivers forcing 400,000 from their homes, officials and media said.
---
 At least 11 people were missing or could not be reached, including a child.
Parts of Fukuoka prefecture on the southwestern island of Kyushu were hit by 774 mm (30.5 inches) of rain in nine hours on Wednesday, about 2.2 times the amount of rain that falls in a normal July, NHK national television said.
Some 7,500 rescuers, including police, firefighters and soldiers from Japan's Self Defence Forces, were mobilized to help with evacuations and search for the missing.
Officials said the military presence could be expanded up to 5,000 people and 50 helicopters if needed.
Chief Cabinet Secretary Yoshihide Suga said: "There are many reports of people whose safety cannot be confirmed, things like 'a child was swept away by the river' and 'my house was swept away and I can't get in touch with my parents'."
"We will keep in close contact with the disaster-hit areas and work with all our energy to save lives and ascertain the extent of the damage," he told an emergency early morning news conference.
Source: reuters