Lagosians Urge Government to Address Flooding, Blocked Drainages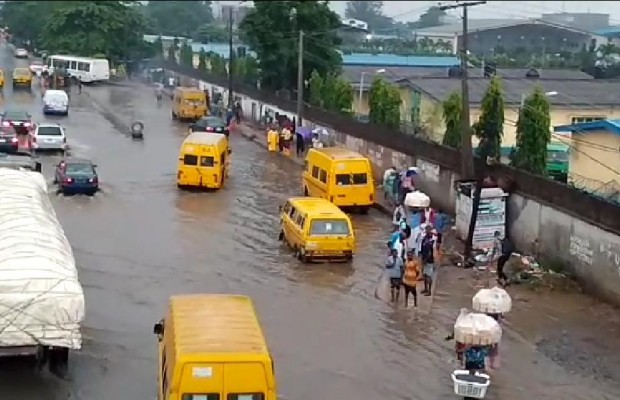 Following the heavy downpour earlier on Thursday, Lagos residents have appealed to the state government to address the issue of perennial flooding by fixing bad roads and clearing blocked drainages.
Rain Rain Go away, come again another day! Most Lagosians are familiar with that popular Nursery rhyme and indeed would wish it didn't come today.
Indeed the rains have come again in all its glory bringing a mixed tale of gladness for some, and indeed frustrations to other Lagosians.
From the popular Allen Avenue which leads to the state secretariat in Alausa, to the nation's Silicon Valley, the Computer Village, you will not miss the presence of flash floods.
So, as the rains come down, the umbrellas go up.
Commuters say they have lost productive time travelling from their homes to offices and places of business.  They blame this situation on the bad roads.
Some are quick to lament the exploitation of public transporters who decided to increase their fares.
Our camera lens catches some blocked drainages on the way. Visible among the trash are pure water sachets, plastic bottles and other refuse.
Over time the government had appealed to residents to stop dumping wastes in the drainages, but this has often fallen on deaf ears. And like Oliver Twist, residents ask for more.
Indeed it has rained for hours in Lagos and most residents have spent the bulk of it on the road, but a lot still needs to be done as the issue of floods and its attendant effect always resound during the season.