Customs Seizes 38 Rice- Laden Trailers in Ogun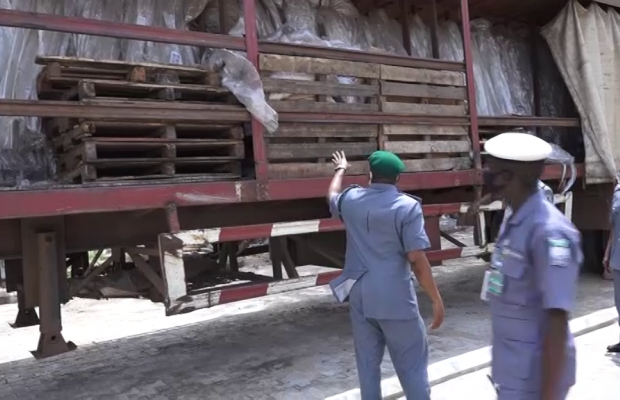 The Ogun Area 1 command of the Nigerian Customs Service says it has seized 38 trailers containing 19,000 bags of foreign parboiled rice in the border areas of Ogun State.
The command disclosed that the product with Duty Paid Value (DPV) of N307.891million was seized in the first quarter of the year.
The Area Controller, Peter Kolo who spoke with newsmen in Abeokuta, on Tuesday, said some bags of rice were concealed by smugglers in the branded trucks owned of Coca Cola, a multinational company.
Kolo also disclosed that the command, in March, generated N8.27million and confiscated 167 contraband goods involving petroleum products, cannabis sativa, vehicles and motorcycles used as means of conveyance of the prohibited goods.
He puts the combined revenue generated by the command in the first quarter at N12.321m.
The Area Controller debunked the report of an alleged compromise of the Customs operatives in the smuggling of prohibited products into the country.
While warning against using branded vehicles of multinational companies to smuggle contraband goods, the Area Controller expressed worry that hoodlums have not backed down on their nefarious activities despite the closure of borders in the state.
He noted that the activities embarked upon by the command are a patriotic duty in the interest of national security and the economic well being of Nigeria.