AMCON stands to lose N12.9bn over fraudulent activities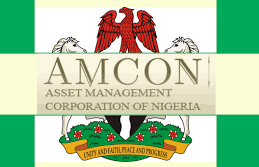 The Assets Management Company of Nigeria, AMCON says it is a victim of some fraudulent activities and stands to lose over N12.9 billion naira which is a judgment debt belonging to all Nigerians.
Briefing newsmen in Lagos, AMCON says it acquired a debt which arose from the acquisition and development of land owned by Victory Park estate, managed by Knight Rook.
All assets held by the receiver were handed over to them in satisfaction of a court judgment in 2017 and an appeal in June 2019.
Upon reviewing of claims by third parties, AMCON says it noted that some instruments of transfers in respect of properties in the estate were fraudulently executed by persons who were neither directors nor secretary of Knight Rook limited and had no authority to deal.
AMCON says it needed to set the record straight as a result of incessant falsehood, Fabrications and half-truths being bandied across online media platforms.
They call for understanding and support of all Nigerians as it continues to engage with stakeholders in resolving the issues and realizing its debts.