Health workers to commence strike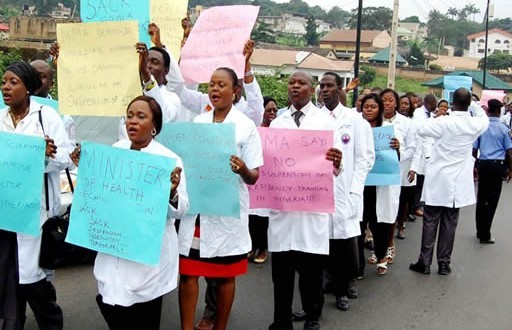 Health workers under the aegis of the Nigeria Union of Allied Health Professionals say they will embark on an indefinite nationwide strike if the Nigerian govt. fails to meet its list of demands.
---
The Union which comprises pharmacists, physiotherapists, medical lab scientists, imaging scientists, health Information managers and other related professionals that held a procession in Abuja Tuesday said the Nigerian govt. had failed in terms of its non-implementation of the collectively bargained agreements reached since 2009 which it had with it and the Joint Health Sector Unions (JOHESU).
In the light of this and other failed commitments of the federal govternment, the union, through its national president, Dr. Obinna Ogbonna said the nation's health institutions are about to be witness yet another industrial action.
 The National President of the Nigerian Union of Allied Health Professionals therefore charged the Nigerian govt. to deal with the general level of decay in the nation's hospitals in the interest of the many less privileged Nigerians.