Nigerians react to etisalat change of name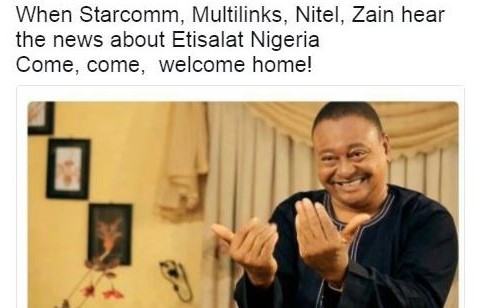 This is not a favourable time for Etisalat, Nigeria as its Abu Dhabi investors pulled out of the company following the failure of the company to pay up a loan they took from a consortium of Nigerian banks.
---
Etisalat failure to pay up resulted in the seizure of the Telco despite efforts by the CBN and NCC to prevent the seizure.
Etisalat Nigeria was given a 3 week ultimatum today stop using the Etisalat Brand Name and related materials including logos and trademarks.
Recalled that, Etisalat Nigeria has 20 million subscribers, making it the country's number four mobile operator with a 14 percent market share.

Meanwhile, some Nigerian tweeter users have been reacting to the company change of name and its new name.
Here are some fuuny tweets, some Nigerians think of Etisalat and its new name 9mobile.


This tweet thinks the name is as a result of the number of banks they are owing
Those who think the telecommunication's bonuses are just to the extreme
Those who think some digits are omitted in the new name

Those who think there might be increment in the tarrif rate

Those who still can't explain why it is 9mobile